The Freixenet Group participates in virtual job fairs in its commitment to talent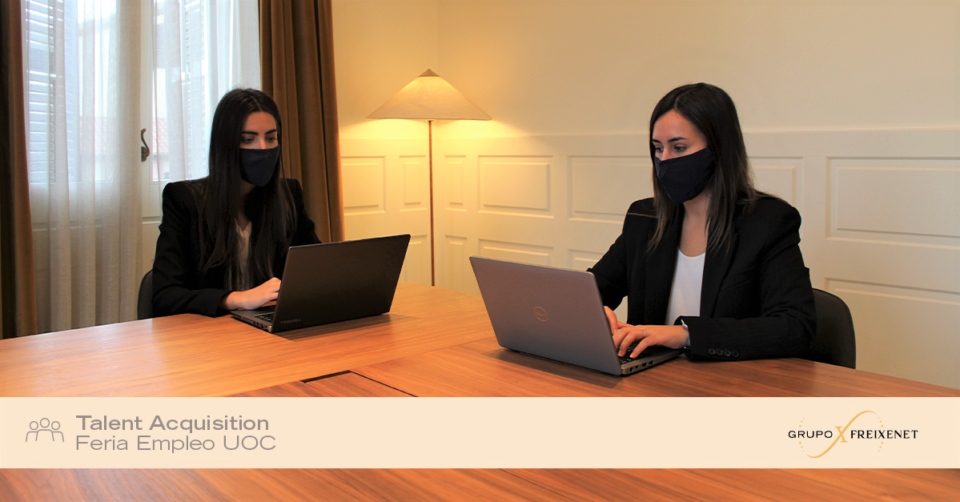 The Freixenet Group has recently participated in the virtual job fairs of two leading academic institutions, the Open Universitat Oberta de Catalunya (UOC) and Pompeu Fabra University (UPF) – Barcelona School of Management, which brought together students and alumni and dozens of leading companies. The objectives of our company's presence at these events are to make us known among the professionals of the future and accompany them in their first steps in the working world within the framework of our commitment to talent and employability strategy.
Part of our HR team attended the students, alumni and other attendees during the conference to inform about the Freixenet Group, its values and the selection processes. In addition, our virtual stands hosted a presentation about the company and its talent recruitment and retention programs by Cristina García, HR Director of the Freixenet Group, and the testimonial of Javier Domínguez, member of the Corporate Communication Department.
In the case of the Universitat Oberta de Catalunya (UOC), the Freixenet Group and 150 other companies and entities have participated in the 2nd edition of the UOC job fair. This year the meeting has once again been completely virtual, through a platform that ensured the best interaction between the UOC community and the participating companies. This initiative aimed to facilitate a space for the exchange of knowledge around employment and the job market and to provide the opportunity to meet new organizations, make contacts, conduct interviews, as well as establish new relationships between companies, professionals and institutions from different fields.
Regarding the Pompeu Fabra University (UPF) – Barcelona School of Management job fair, this networking event is aimed at students from all areas of specialization where companies such as the Freixenet Group participate in it by creating a digital meeting between them and students, in an agile, dynamic way and via Zoom.