Freixenet and Segura Viudas cavas are awarded four Grand Gold medals in the Wine and Sparkling Wine Competition of Catalonia – Giroví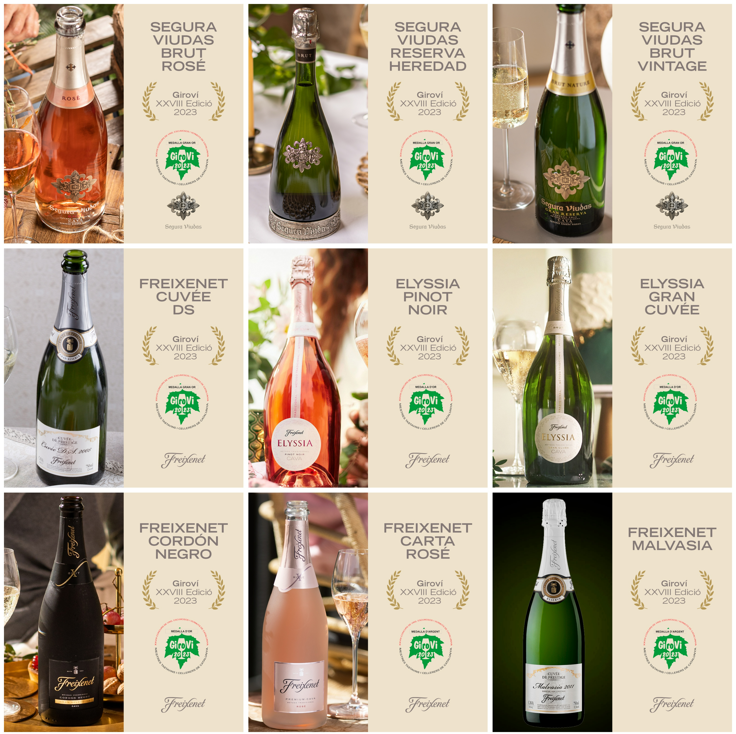 Our cavas have also obtained three gold medals and two silver medals in the prestigious contest held in Girona
From Freixenet Group we are proud to announce that our Freixenet and Segura Viudas wineries have added new successes in the prestigious Wine and Sparkling Wine Contest of Catalonia – Giroví 2023, a competition held in Girona.
Segura Viudas, our renowned winery with 800 years of winemaking tradition and respect for the roots, has obtained excellent results adding three Grand Gold medals for the brand icon Segura Viudas Reserva Heredad, the elegant and harmonious cava Segura Viudas Brut Vintage and Segura Viudas Brut Rosé, the perfect and delicious rosé cava with fruity aromas.
For its part, the Freixenet cava awarded with the outstanding Gran Oro medal has been the emblematic Freixenet Cuvée DS, a unique cava that pays tribute to the co-founder of Freixenet, Dolores Sala. Likewise, Freixenet Elyssia Gran Cuvée and Elyssia Pinot Noir, relaunched with a new, elegant and sophisticated image last year, and Freixenet Cordón Negro Brut, chosen as the best cava in the world for the second consecutive year by CSWWC, have been awarded a gold medal, and the aromatic Freixenet Carta Rosé cava together with the Cuvée de Prestige Malvasia have been recognized with silvers.
Created by Agustí Ensesa, founder of the College of Tastavins del Gironès, the Wine and Sparkling Competition of Catalonia – Giroví has celebrated its XXVIII edition on April 1 at the Double Tree by Hilton Hotel in Girona with the participation of samples of all the Catalan DOs. Giroví increases every year the number of competing wineries and has a demanding jury formed by oenologists, sommeliers, winemakers, teachers and students of the School of Hospitality, sellers, distributors, restaurateurs.
The recognitions obtained demonstrate, once again, Freixenet Group's commitment to the highest quality and demand in all its products.