Segura Viudas has obtained the "Safe Travels" stamp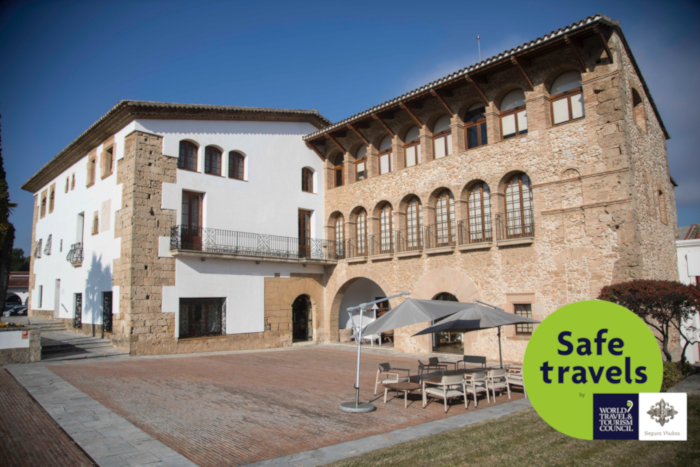 The Segura Viudas Winery joins the international certification "Safe Travels" awarded by the World Travel & Tourism Council.
The certification guarantees internationally that the protocols for prevention measures against Covid-19 are met.
Segura Viudas joins the "Safe Travels" certification granted to destinations that comply with the regulations established for the well-being of tourists, including all prevention measures against Covid-19. Obtaining this stamp is recognition of the commitment of the Penedés winery for safe and quality wine tourism.
Having obtained this certification will help Segura Viudas to reinforce the message of security and trust for its visitors. The new "Safe Travels" is a global recognition which represents a security guarantee for local and international visitors, which the winery hopes to start receiving on a regular basis throughout 2021.
The Torrelavit winery has received this seal after having developed a prevention plan against Covid-19 that includes measures such as: physical distance reflected in the distribution of seats and the limitation of the number of personnel in common areas, automation of records and payments or confirmation with food suppliers the application of sanitary measures in handling and preparation.
Segura Viudas hopes that initiatives like these will help restore the confidence of travellers, since its standards are high and more than a stamp, to Segura Viudas it represents the commitment of making its winery a safe space for visitors and employees.
Tourism of Barcelona is the entity in charge of the "Safe Travels" stamp management in Catalonia and it is granted by the WTTC World Travel and Tourism Council. These protocols are those that the WHO itself has issued and have had the support of the UNWTO (World Tourism Organization) of the United Nations and the Centers for Disease Control and Prevention (CDC).
Obtaining this certificate adds to the commitment to tourism sustainability with the "Biosphere" certification, which Segura Viudas obtained in 2017 and renews every year, reinforcing its continuous improvement in all areas of sustainable management.