Freixenet relaunches its emblematic Elyssia range and establishes itself in the Premium segment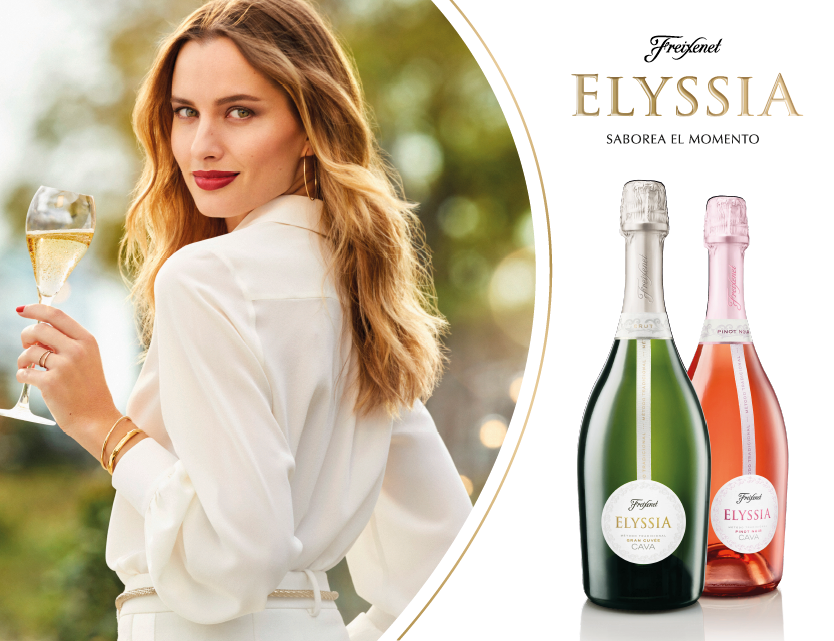 The world leader in Cava promotes the new image of its emblematic cavas Elyssia Gran Cuvée and Elyssia Pinot Noir, consolidating them in the Premium Cava segment
The brand transmits the excellence of the product through a new image based on simplicity and elegance
Freixenet, the world's leading brand in the sparkling wine market, relaunches its emblematic Cava range Elyssia, consolidating it in the premium segment.
Elyssia Gran Cuvée and Elyssia Pinot Noir debut a modern and elegant image to attract consumers seeking sophistication and celebration. The bottle debuts an elegant circular label and modernizes its most characteristic features: its sinuosity with unique curves and its unmistakable vertical ribbon that represents the movement of the well-known Cava bubbles.
The result is two elegant, contemporary and seductive Cavas. Elyssia combines simplicity with a touch of luxury to experience any moment as an extraordinary celebration and to share special occasions. Life is full of wonderful moments and celebrating them makes it much more special. The delicious aromas of Elyssia are the ideal daily reward to feel pride and satisfaction for our achievements and savor the moment we deserve. Taste a delicious glass of Elyssia while we relax and take the time to appreciate and enjoy every special moment in our lives.
Tasting note
The Elyssia cavas are the living example of symmetry, with an excellent combination of the traditional Cava grape varieties, Macabeo and Parellada, and the world revered Chardonnay and Pinot Noir, typical varieties of the Champagnes, to create a unique cava for the sophisticated tastes of today.
Elyssia Gran Cuvée is a cava made from Chardonnay, Macabeo, Parellada and Pinot Noir. Straw yellow in color with greenish rims, it is characterized by its fine bubbles and its pleasant aromas of acacia flower and honey, which stand out against an elegant background of ripe fruits such as pineapple and peach. In addition, its uniqueness makes it soft and sweet on the palate, giving a pleasant and harmonious final acidity. It is ideal for pairing with blue and white fish, soft cheeses, fresh vegetables and sushi.
For its part, with an intense pink color and abundant bubbles, Elyssia Pinot Noir is a Cava made from the Pinot Noir grape variety. This sophisticated Cava stands out for its fruity touch with intense aromas of ripe raspberry, currants and cherry. Tasty and sweet, it stands out for its good presence of fruity sensations in the mouth, leaving a refreshing acidity and a long finish with flavors of well-ripened fruit. It pairs perfectly with appetizers, Mediterranean rice dishes, fresh pasta, sausages and dark chocolate desserts with strawberries.
Awards and honours
The excellence and quality of the Elyssia range is recognized by the most prestigious wine competitions in the world. Elyssia Gran Cuvée has received in 2022 an valoration of 90 points in the renowned Guía Peñín and a gold medal at the Concurs de Vins i Escumosos de Catalunya – Giroví and, previously, it received the gold medal at the Berliner Wien Trophy and at Effervescents du Monde, renowned French competition that placed it in the Top 10 as the best cava in the ranking. For its part, Elyssia Pinot Noir received in 2021 the Grand Gold at Giroví and gold medals at the Bacchus and CINVE competitions.